---
Petal's Edge Floral Design specializes in custom floral design for DC area weddings and special events. Operating from our studio in Old Town Alexandria, we excel in the planning and creativity necessary to bring style and panache to your event – no matter how big or how small. Founded in 2004, the women-owned and -operated company supports environmental practices by composting and recycling renewable materials. We have always supported marriage equality and embrace love in all its diversity. Petal's Edge has been featured in The Knot, Brides Washington, Brides Maryland, I Do for Brides, Soiree and Engaged! magazines. Speaking engagements have included annual demonstrations of floral design techniques for the Smithsonian Institution's Garden Fest program, a Fox 5 News feature on weddings, instructional videos on hiring a florist and floral design for Monkey See, and a discussion on emerging trends in floral design at George Mason University. Among our accolades, the company was voted one of the area's best florists by Washingtonian magazine (2006-2017), was named a "Best of Weddings Pick" by The Knot magazine, and has been featured on Grace Ormonde Wedding Style's Platinum List.
---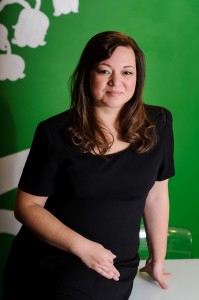 Gerry Rogers, founder and partner, brings a diverse array of influences to her work in floral design. The daughter of a diplomat and hobby horticulturist, plants have been a constant presence in her life. More than ten years experience in the arts – including work with the National Gallery of Art, The Smithsonian Institution, and the Des Moines Art Center – has schooled her well in the important elements and principles of design. Inspired by such renowned floral designers as Christian Tortu and Paula Pryke, Gerry has studied modern European and minimalist Asian styles of floral design. She has undergraduate degrees from Duke University in art history and women's studies, and received a graduate degree in education and completed coursework toward a doctorate in organizational leadership from the University of Virginia.
Rebecca Henry
,
partner
, has over 15 years education and experience in both horticulture and design. She holds a bachelor's degree in horticulture from The Pennsylvania State University and a master's degree in landscape architecture from the University of Michigan. A former landscape architect, she brings a unique perspective to the art of flowers with designs inspired by the forms, textures and colors of the natural world. Rebecca has been trained in a wide variety of floral design styles, from the elegant and dramatic arrangements of traditional and modern European design to the simplicity of Japanese Ikebana. Prior to Petal's Edge, Rebecca worked independently as a floral designer for both weddings and individual arrangements.